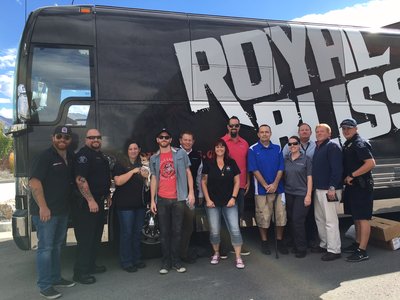 WOODS CROSS— When the chips are down it's nice to know someone cares. Woods Cross Police Officer Dan Schultz felt that in a big way last Thursday when hundreds came out to a fundraising event in his honor hosted by Flexpak in Woods Cross.
"It's pretty overwhelming actually to see the support of the community," said Schultz.
Schultz has been with the department for 18 years and fell ill in May. After numerous tests and treatments, he said he is progressing but the medical bills are mounting. When Flexpak owner Brian Kellen heard about the situation, he decided to lend a hand.
"We've become good friends with the Woods Cross Police Department," Kellen said. "We thought this would be a great opportunity to give back, especially with everything that is going on in the country with police. I attended the Citizens Police Academy and it gave me a huge respect for our officers. I felt compelled to do something."
Flexpak holds an open house twice a year for customers and Kellen thought he would combine it with a fundraiser for Schultz. In addition to a free lunch, American Country Rock band Royal Bliss, who got their start in Utah, offered to play.
"We had to be a little careful on social media because if people had heard Royal Bliss was coming, we would have had too big of a crowd," said Kellen. "Our goal is to raise as much money as we can. For a minimum donation of $5 people will get a signed CD or poster. Flexpak will match every donation."
In addition to customers from Logan to Payson, Kellen invited all the local police agencies.
"We're grateful there are still people in the community willing to help out," said Woods Cross Police Chief Greg Butler. "It's a reflection on the wonderful businesses and citizens in Woods Cross."
This isn't the first time Kellen has reached out to help the department. "About a year and a half ago Woods Cross was trying to raise money to get a search/drug dog," said John Freeman, Flexpak vice president of operations. "Brian put up money to buy the dog. When he heard about a police officer that was going through physical challenges, he made sure he was included in this event. He's just a very charitable, big hearted guy."
The packaging company has been in Woods Cross since 2007.    "They've (Woods Cross) been good to us and we've been good for them – we pay our taxes," Kellen laughed. "If we expand again we'll try to find land in Woods Cross so we don't have to leave. Whatever I can do I'm happy to do it."
Schultz hasn't been able to return to work yet, but the department hopes he will soon.
"He's the longest serving employee," said Butler. "He's solid and consistent. He's always one of the most mellow, happy guys. He doesn't complain, he just does his job. He's one of the nicest guys in the department. It's just horrible when tragedy gets these guys."
View Article:  The Davis Clipper – Flexpak steps up to help local Woods Cross police officer